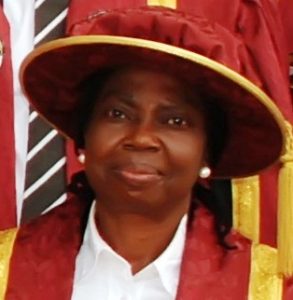 Department
: Registry
Designation: Registrar
Office: @ the Rectory, Administrative Building, Middle floor, RM 1 
Contact
:
Tel: +2348062288888
Email: registrar@auchipoly.edu.ng, margaret.aashi@yahoo.com
Overview of ResponsibilitiesQualificationsProfessional MembershipExpertiseResearch InterestSelected Publications
i) Administration of Personnel matters;
ii) Handling recruitment and selection of personnel;
iii) Functioning as Secretary to the Appointment and Promotions Committee;
iv) Administration of Senior Staff Development Programme;
v) Handling passages and hospitals for Senior Staff;
vi) Serving as Secretary to Senior Staff Housing Committee;
vii) Projection and forecasting of demand and supply of Senior Staff Housing;
viii) Preparation and distribution of staff regulations;
ix) Serving as Secretary to Protests Committee;
x) Up-dating Staff Regulations;
xi) Liaise with Polytechnic Staff Associations;
xii) Administration of both Senior and Junior Staff welfare matters, and
xiii) Any other duty that may be assigned. 
Ph. D Public Administration, 2007, Ambrose Alli University, Ekpoma.
i) Financial Secretary, Conference of Registrars of Polytechnics and
Colleges of Technology in Nigeria (COREG).
ii) Full Member, Nigerian Institute of Management (NIM, 2003).
iii) Fellow, Institute of Corporate Administration (FICA, 2007).
iv) Full Member, Academy of Entrepreneurship Studies (MAES, 2007).
v) Fellow, Institute of Policy Management Development, (FCIDA, 2014)
vi) Fellow, The Civilian Institute of Democratic Administration of Ghana
(FCIDA, 2006).
In the course of career growth, she has acquired both organizational and policy analytical skills, which are necessary for actualization of organizational goals.
Policy Formulation, Implementation, Evaluation and Feedback.
a) Girl Child illiteracy and Socio-Economic Status: The Nigerian Situation,
Aashikpelokhai, M. I., Ph.D, and Otti Victor Uzoma, Ph.D, Journal of
Technical Education and Management Sciences, Vol. 9, No. 9; June,
2015.
b) A First Course in the Theory and Practices in Public Administration,
Policy and Local Government, Tide Books, Benin City, 1999.