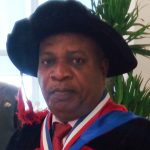 Department
: Polymer Science & Technology
Designation: Chief Lecturer
Office: @ the dept of polymer, staff block Left wing, RM 5 
Contact
:
Tel: +2348034525540
Email: imanah.je@gmail.com
About MeQualificationsProfessional MembershipExpertiseResearch InterestSelected PublicationsCurrent Teaching
Joseph Edeki Imanah, joined the services of Auchi Polytechnic in 1996 where he had an unbroken clean service record for the past 20 years. As a lecturer III at the point of entry, he rose to the position of Chief Lecturer in January 2010. His service at the Polytechnic has given him the opportunity of serving in various committees and heading some units; notably among them are
• Asst. Director, Auchi Polytechnic consultancy unit 2005 – 2006
• Head, Department of Polymer Technology 2006 – 2010
• Director, Centre for Flexible Skills Development 2012 – 2017

PhD Industrial Chemistry – 2003
M.Sc Industrial Chemistry – 1995
B.Sc (Ed) Hons Chemistry – 1992

• Member, Institute of Public Analyst of Nigeria (MIPAN)
• Fellow, Chemical Society of Nigeria, (FCSN)
• Member, Materials Society of Nigeria, (MMSN)
• Fellow, Polymer Institute of Nigeria, (FPIN)
• Member, Institute of chartered chemist of Nigeria, (MICCON)
.
Characterization of Polymer additives from Agricultural by products
Flexible Skills Development (FSD)
Facilitating online teaching & learning in TVET
Design and Management of courses for both Formal & Informal sectors
Formulation and design of Rubber Compounds/Composites
Physio – Chemical evaluation of Polymer additives in rubber compounds and their utilization
Formulation and compounding of rubber, testing & characterization
Characterization of Polymer additives
Latex Processing
Polymer blends & composites
Advanced Physical chemistry