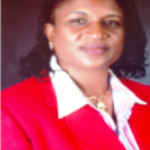 Department
: Office Technology Management
Designation: Chief Lecturer
Office: @ the School of ICT, staff block Left wing, RM 18 
Contact
:
Tel:
Email: philipaidogho@yahoo.com
About MeSelected Publications
Dr. (Mrs.) Philipa Omamhe Idogho, a scholar, received the Ph.D in Educational administration from Ambrose Alli University Ekpoma, and a Master Degree in educational Management from University of Benin.  With over 28 years of teaching/research experience, she was Rector of Auchi Polytechnic.  An Alumnus of this great Institution. She has more than 50 papers in National/International Conferences/Journals to her credit.  She is a fellow, Nigeria Institute of Management, Institute of Administrative Management of Nigeria and member, Association of Business Educators of Nigeria, Association for Encouraging Qualitative Education in Nigeria, and other recognized professional organizations.  Outside her academic life, she runs a Non-governmental Organization (NGO) known as Women Enhancement Organization.  It is non-profit making, non-partisan and non-religious organization which works in three thematic areas of gender works, HIV/AIDS and literacy education for vulnerable children  and rural women.