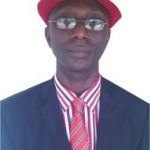 Department
: Ceramics
Designation: Principal Lecturer
Office: @ the School of Art & Industrial Design, HOD's Office, RM 1 
Contact
:
Tel: +2348060474784
Email: osadanosa@gmail.com
About MeQualificationsProfessional MembershipConsultancySelected PublicationsArt Exhibitions
Dr. Osariyekenwen Nosakhare Daniel, hails from Orhiomwon Local Government Area of Edo State. He attended Auchi Polytechnic, Auchi where he obtained National Diploma and Higher National Diploma in General Arts and Ceramics.
Thereafter, he obtained Post Graduate Diploma in Education (PGDE) from Delta State University, Abraka, BA HONS and Master in Fine and Applied Art (MFA) specializing in Ceramics from University of Benin (UNIBEN) and PhD degree in Ceramics and Glass from Ladoke University of Technology (LAUTECH) Ogbomoso.
He commenced his work career as subject officer II Ceramics in National Business and Technical Examination Board (NABTEB), 1998 after working as production personnel at various Ceramics industries in Nigeria. He later proceeded to the Department of Ceramics in Auchi Polytechnic as Lecturer 1, and rose steadily through the academic rank of Lecturer 1, Senior Lecturer and Principal Lecturer. He was appointed as Assistant Director, Research in Center for Research, Innovation and Development (CRID) 2012-2016 and presently he is the HOD, General Art and Industrial Design.
His sojourn in academic arena to different countries started in 2011 to Italy (Europe), Accra(Ghana), in 2012 through 2016, Cleveland, Ohio, USA in 2016, among others. He has presented so many incisive papers at National and International Conferences, some of which have turned out to become publications in impact facto journals. He is a member of several National and International professional bodies and presently the National Secretary of Ceramics Research Association of Nigeria(CERAN) after serving as an Assistance Secretary.
He is happily married to Mrs. Osariyekemwen, Violet of the Chemical Engineering Department UNIBEN and they are blessed with children.
Ph.D,(Ceramics & Glass)
MFA(Ceramics)
PGD (Education)
BA(Hons) (Ceramics)
HND (Ceramics)
ND (General Arts)
NABTEB Computer Certification
Ceramics Research Association of Nigeria (CERAN)
Resource Person in the workshop for the development of curricula for trades and Entrepreneurship organized by Nigeria Education Research and Development Council at Davies Suites 71 Fite-ukpo Street, Opposite Sabbath Bus stop. New haven, Enugu State 21st – 26th September 2008.
Resource person for the Development of Clay Clean Stove at Energy Research Center,University of Nigeria, Nsukka.
• Ceramic association of Nigeria (ceran) 10th annual conference and exhibition Nov 12th -16th, 2012, held at university of Uyo, Akwa Ibom state, Nigeria 2012
• ceramic association of Nigeria (ceran) 9th annual conference exhibition November 14th – 18th, 2011, held at ekhewan campus university of Benin, Benin City. 2011
• Igue festival exhibition December 2011 organized by national arts gallery and national commission for museums & monuments, Benin city held at Oba Akenzua cultural centre, Benin City. 2011
• Truce exhibition held at the gallery of school of art and industrial designs, Auchi Polytechnic, Auchi. 2011
• Ceramic association of Nigeria (ceran) 8th annual conference and exhibition 2010, held at ahmadu bello university Zaria- Nigeria. 2010
• Prima – facieses exhibition in ceramics department of fine and applied art (uniben) 2005
• Final year master degree in fine and applied arts (ceramics) exhibition and presentation of project to external examiner, department of fine and applied arts (uniben) 2005
• Candidacy exhibition in ceramics, departments of fine and applied arts, university of Benin, Benin City 2004
Solo Art Exhibition
• From Ceramic wastes to ceramics production, 2016.
• Ceramics Phase, 2017.