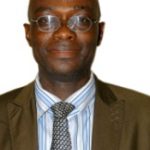 Department
: Ceramics
Designation: Principal Lecturer
Office: @ the School of Art & Industrial Design, HOD's Office, RM 1
Contact
:
Tel: +2348037771019
Email: otimeypius@gmail.com
About MeQualificationsProfessional MembershipExpertiseConsultancyResearch InterestSelected Publications
Dr. Otimeyin Pius is a Principal Lecturer and former Head, Department
Of Ceramics, Auchi Polytechnic, Auchi. Holds a Master of Fine and Applied Art in Ceramics from the University of Benin, Edo State of Nigeria and a Doctor of Philosophy in Studio Arts (Ceramics) Delta State University, Abraka, Delta State, Nigeria.
A Ceramist that explores figures from vessels with prime concentration in lines and forms showing unique contours of the human figure. He has instinctual coerce to create clay objects that portray the everyday life experience. A native of Warri Southwest Local Government Area of Delta State, Nigeria and happily married with children.
Ph.D. Studio Ceramics 2015
Masters of Fine and Applied Arts – Ceramics 2006
Post Graduates Diploma in Education (PGDE) 2003
NYSC Certificate 1995
Higher National Diploma (HND) Ceramics 1993
West African School Certificate 1987
Porters Council, United States of America 2013
Ceramic Researchers Association of Nigeria (CeRAN) 2007
Kiln Construction and General Refractories
Kilns and ceramics consultant
Comparative Study of Granitoid Formulae in the Production of Ceramic Crucible.
Construction of Kilns and Throwing wheels