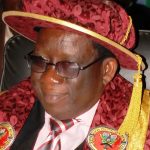 Department: Mechanical Engineering Technology
Designation: Chief Lecturer
Office: @ the School of Engineering Tech. Dept. of Mechanical Engrg.
Contact:
Tel: +2348036144874
Email: jommaengr@yahoo.com
About MeQualificationsProfessional MembershipExpertiseResearch InterestSelected Publications
A Chief Lecturer in Mechanical Engineering Technology with specialization in Thermal/Power Plant Engineering. Research area is in the application of renewable energy (solar) to refrigeration.
Held the positions of Head of Department of Mechanical Engineering at the Federal Polytechnic, Mubi, the Federal University of Technology, Yola (on sabbatical in 1990) both in Adamawa State and Auchi Polytechnic, Auchi at different times, and Director Academic Planning, Auchi Polytechnic, Auchi (2007 – 2009). He is currently the Deputy Rector (Academics), Auchi Polytechnic, Auchi. Completed two terms as Deputy Rector (Academics) in August 2014 but was re-appointed for yet another term on 11th February, 2016. Along the line, he received many letters of commendation and a Meritorious Service Award during the 22nd Convocation ceremony and 50th Anniversary of the Polytechnic in December 8th, 2014.
1. University of Nigeria, Nsukka. B.Sc Hons, 2nd Class Upper. Mechanical Engineering – 1976
2. University of London, King's College, Strand, London, United Kingdom. M.Sc Refrigeration and Air-conditioning Engineering – 1984
3. Ambrose Alli University, Ekpoma, Edo State. P.hD Mechanical Engineering Thermo-Fluid) – 2015
1. Institute of Refrigeration, United Kingdom. M.Inst.R. 1983
2. American Society of Heating, Refrigeration and Air-conditioning Engineers Inc. AMASHRAE 1983
3. Solar Energy Society of Nigeria. MSESN 1984
4. Nigerian Society of Engineers. MNSE 1990
5. Council of Registered Engineers of Nigeria (COREN). Registered 1990
6. Nigerian Institute of Mechanical Engineers. M.N.Inst.Mech.E. 2005
Due to experience and exposure, he has the following expertise:
a. Teaching
Taught the following courses at different levels and periods:
– Engineering Mathematics
– Applied Thermodynamics
– Fluid Mechanics
– Compressible Fluid Flow
– Advanced Heat Transfer
– Refrigeration and Air-conditioning
– Electromechanical Controls in Refrigeration and Air-conditioning.
b. Research
Researched in Solar Energy Applications to heating and cooling leading to the production of the following appliances:
– Solar Still
– Solar Dehydration/Drier
– Solar Absorption Refrigerator
c. Engineering Practice
– Consultancy Services and Supervision of Engineering Projects
– Design and Production of Engineering Laboratory Equipment from local materials and technology
– Procurement Management of engineering and Environmental Laboratory and Workshop Equipment
– Installation and Maintenance of Engineering Laboratory and Workshops Equipment
– Engineering Design and Production of Machinery and Industrial Spare Parts
– Layout Designs and Appraisals of new Laboratory and Workshops.

In the area of the application of renewable energy (solar) to refrigeration, An experimental solar, diffusion absorption refrigerator driven by two modules of flat plate solar collectors and working on methanol as refrigerant and a mixture of Lithium Bromide and Zinc Bromide as an absorber was built. Performance tests were carried out to determine the performance of the vapour bubble pump for the natural circulation of refrigerant – absorbent combination in the system.