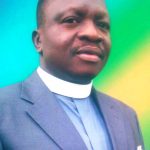 Department
: Rectory
Designation: Deputy Rector (Academics)
Office:  @ the Rectory, Administrative Building, Top floor, RM 3
Contact
:
Tel: show
Email: revokpeodua@auchipoly.edu.ng
Overview of ResponsibilitiesAbout MeQualificationsProfessional MembershipResearch Interest
• Assists and advises the Rector in all matters relating to academic development of the Polytechnic.
• Attends periodic management meetings.
• Supervises all academic activities including:
(i) Registration processes
(ii) Conduct of academic work and semester examinations
(iii) Presentation and approval of semester results by Academic Board.
• Member of Academic Board and presides over Academic Board on behalf of the Rector (Chairman) when he is engaged with other official matters, for the consideration and approval of:
(i) Semester Examination Misconduct matters
(ii) Semester Examination Results for both regular and School of Evening Studies
(iii) Academic calendars for the semester/session
(iv) Harmonization of courses across the Polytechnic
(v) Accreditation and mounting of new programmes
(vi) All other academic matters as may be referred to it.
• Presides over numerous Management Committee meetings as may be constituted by the Rector (both adhoc and standing).
• Supervises the conduct of Post-Unified Tertiary Matriculation Examination (Post-UTME) and Higher National Diploma (HND) admissions into the Polytechnic for both the regular and Evening programmes.
• Presides over the Polytechnic's Admission Committee.
• Attends Academic Planning Committee meeting as a member.
Rev. GODWIN ELAKHE OKPEODUA is a Venerable of the Church of Nigeria (Anglican Communion) and Chief Lecturer in the Department of Languages, School of General Studies, Auchi Polytechnic, Auchi. He is the Pioneer Head of the Department of Languages and former Dean of General Studies, after which he was appointed Dean of Students' Affairs; a position he held until he was appointed as the Deputy Rector (Academics). Rev. Okpeodua is the Representative of Academic Board in the Governing Council of Auchi Polytechnic, Auchi. He has many scholarly publications to his credit. He is happily married and blessed with children.
1. N. C. E., English/History
2. B. Ed., English/Literature
3. M. A., English/Literature
National Association of Teachers of English.
Teaching English as a second language