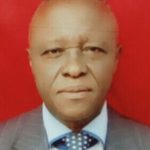 Department
: Rectory
Designation: Chief Lecturer
Office: @ the School of ICT,  staff Building, Top floor, RM 2 
Contact
:
Tel: show
Email: fredagboinghale@auchipoly.edu.ng
About MeQualificationsProfessional MembershipResearch InterestSelected Publications
A former Deputy Rector (Academics) and a Chief Lecturer in the department of Science Laboratory Technology (SLT), currently teaching Inorganic Chemistry at HND and ND levels.
M Sc (Industrial Chemistry), 1997, University of Benin.
i. American Chemical Society, (ACS).
ii. Institute of Chartered Chemists of Nigeria, (ICCON).
iii. Chemical Society of Nigeria, (CSN).
Adsorption Studies in the use of Local Agricultural Waste Products in the Development of Cheap Adsorbents.